Beets, Blueberries, Cantaloupe, Cucumbers,
Egg Plant, Green Beans, Kohl Rabi, Onions,
Peaches, Peppers, Pickles, Potatoes, Summer
Squash, Sweet Corn, Tomatoes, Watermelon,
and Zucchini.
These are the things we sell during the summer season, we may not have everything that is listed when you come. Please call ahead if you are coming for one item in particular.
Beets-
(Picture is unavailable)
Cabbage-
(Picture is unavailable)
Cantaloupe-
(Picture is unavailable)
Egg Plant-
(Picture is unavailable)
Garlic-
(Picture is unavailable)
Beans-
(Picture is unavailable)
Kohl Rabi-
(Picture is unavailable)
Onions-
(Picture is unavailable)
Okra-
(Picture is unavailable)
Peaches-
(Picture is unavailable)
Peppers-
(Picture is unavailable)
Potatoes-
(Picture is unavailable)
Summer Squash-
(Picture is unavailable)
Sweet Corn-
(Picture is unavailable)
Tomatoes-
(Picture is unavailable)
Watermelon-
(Picture is unavailable)
Zucchini-
(Picture is unavailable)

---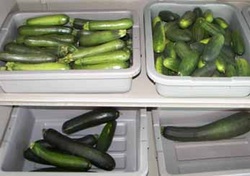 ---